***Date: No date appears on any of the observed impressions of this print. Of the dates that appear on works in the Hemingway Collection, which includes this print, none is earlier than 1931 and none later than 1934. Quintanilla started making drypoints, in fact prints in general, with Adolfo Ruperez, the printer of all the prints in the Madrid Series, sometime after the artist's return to Madrid in 1929. (See Biographical Chronology.)
The one known exception to the range of dates specified in the paragraph just above is entry # I.
Medium: Although Burdett claims that Quintanilla did not mix his printmaking media and used solely drypoint, the BMA describes this print as etching only. Examination of other prints from the Madrid Series also reveals the use of etching along with drypoint. Until further examination is made, the catalogue raisonné concurs with the BMA designation of "etching."
For further discussion of the factors involved, visit the "Medium" section of "Using This Catalogue Raisonné."
****Edition:
The impression at the Baltimore Musuem of Art is inscribed, l.l., "no 6" in the artist's hand.
Ruperez typically printed ten or fewer (most commonly 7-10) of Quintanilla's Madrid Series prints, often including at least one or more unnumbered impressions. (No record exists of more than two unnumbered impressions of any of the Madrid prints.)

The Hemingway Collection typically includes one unnumbered impression bearing a title instead of the number, l.l. (See Fig. 1 above.)
States: One impression (See Fig. 2 below), though not annotated as such, is clearly an earlier state of Galicia, lacking much of the background shading, facial shading and other detail observable in impressions from the edition. (See above.)
Although the impression shown in Fig. 2 is signed (l.r.) and numbered, "10/12" (l.l) in pencil, these annotations are dubious, almost certainly not by the hand of the artist. (See the discussion of dubious signatures and annotations in the Introduction.)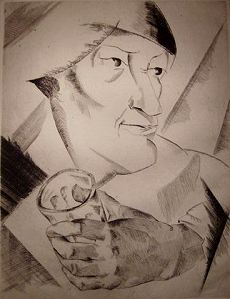 Fig. 2
Photo courtesy of Javier Romeu
Reproduced in: Burdett (266)