Notes
*Title: Typically AAA published prints were signed in pencil but without further pencil annotation; Garden Boy is the title as it appeared on the AAA label.
**Date: 1950 is the date this print was published by Associated American Artists, not necessarily (though probably), the date it was created by the artist.
***Medium: Although Associated American Artists (AAA), the publisher of this print, calls Garden Boy a drypoint, it is highly unusual to find a drypoint in an edition of 250. The explanation for such a large drypoint edition has yet to be determined.
***Edition:
This print, as was typical for AAA editions, was published in an edition of 250 impressions (Windisch).
One observed impression (not pictured) is inscribed in pencil, l.l. "State Proof n°2."
State: An impression with the dedication noted under "Subject" below is inscribed, l.l., "state proof n°"; however, no number is present). (See Fig. 1 below.)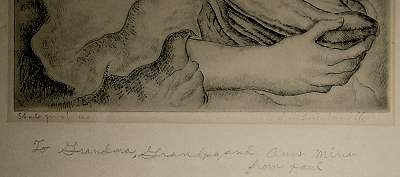 Fig. 1
****Subject: The model for the lithograph was the artist's son, Paul Quintanilla. One signed impression is inscribed by Paul "To Grandma, Grandpa, and Aunt Mint from Paul." (Paul was ten years old in 1950.) (See Fig. 1 above.)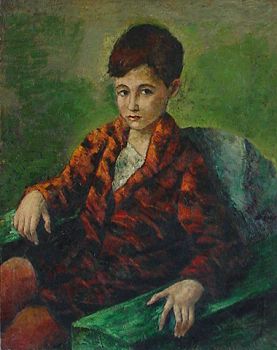 Fig. 2
Portrait of the artist's son Paul, oil on canvas,
30 x 24 in., c 1948