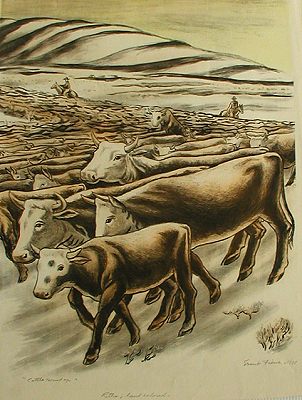 Click the image for an enlargement.
Date: 1938
Medium: Lithograph, hand colored*
Edition: See below.*
Dimensions: 17 1/2 x 14 inches
Printer: Currently Unknown (CU)
Typical pencil annotations on impressions from the edition: See below.*
Public collections holding this print: CU
Topic galleries for this print:
1. Color Works
2. Farm/Ranch Scenes

Notes
*Edition/Annotation and Color:: No observed impression is numbered and no other indication of an edition has been found. Two hand-colored impressions have been observed: one is signed, l.r., titled, l.l., and annotated "hand colored," l.c.; the other is unsigned, untitled and otherwise unannotated. Also, a black ink impression without any annotation has been observed (See below.).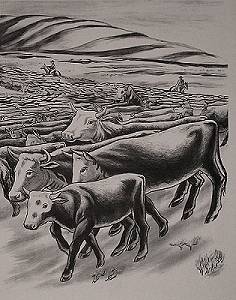 For more about Fiene's color prints in general, click here.
Setting: Fiene visited Colorado and New Mexico in 1935. This and other western scenes probably derive from that trip.
Related Works: In 1937, Fiene completed four oil-on-canvas murals, Placer Mining, [Fighting] Forest Fire[s], Reforestation, and Cattle Roundup (now called Winter Roundup by The Department of the Interior) for the new Interior Department Building, Washington, D.C. The Inderior Department mural Winter Roundup (See immediately below.) is very similar in composition to the lithograph above.