*Title: The title "Colonial Church" derives from the Associated American Artists (AAA) label (see below). Generally, prints published by AAA were signed (l.r.) in pencil, but the title appeared only on the accompanying label. One impression of this print bears the title "Winter" (l.l.) in pencil, but probably not in Fiene's hand.
A later lithograph dated 1949 also carries the title, Colonial Church. It appears that Fiene used the same church in Stepney, Connecticut as the subject for three lithographs: Colonial Church [1], c. 1948 (above); New Snow, 1946; and Colonial Church [2], 1949.
Because two prints in the catalogue bear the title "Colonial Church," we have designated them "Colonial Church [1]" and "Colonial Church [2]," where the numbers in square brackets have been assigned, for purposes of clarification, by us not the artist.
**Date: This lithograph was published by Associated American Artists as one of a series of miniature prints by various artists. The AAA catalogue for this series of miniatures appeared in 1948, and is, thus far, the only basis for dating the work. The other print by Fiene from this series is Sunset.
***Edition: Unlike most AAA editions, which were 250 impressions, AAA published their miniatures in editions of 200.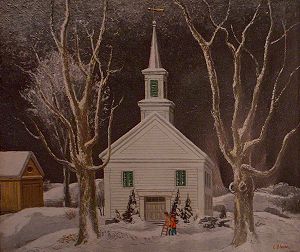 Church in Winter, oil on board, c. 1947
(photo courtesy of the estate of Ernest Fiene)