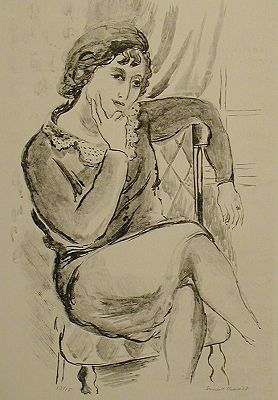 Click the image for enlargement.
Date: 1928
Medium: Lithograph
Edition: 15
Dimensions: 14 5/8 in. x 9 5/8 in.
Printer: George C. Miller
Typical pencil annotations on impressions from the edition: just below the image: numbered (l.l), signed and dated (l.r.)
Public collections holding this print: CMA
Notes
* Title: At least three possibilities for a title exist: 1) The Downtown Gallery catalogue of 1928 "Ernest Fiene New Lithographs" calls this work "Girl in Rocker." One would have to presume that the artist at least knew of this title--if in fact he did not create or approve of it himself. However, at least one of the impressions from the edition, the one numbered "4/15," has the title "Jean" inscribed in pencil, l.l. Jean is short for Jeanette, Fiene's first wife. The inscribed title appears to be in Fiene's hand but using a different pencil, suggesting he added it sometime after the edition received its standard annotations. 3) An auciton house listing indicates a lithograph insciibed in pencil "Young Girl," edition 15, with a size very similar to this work, dated 1928.
| | |
| --- | --- |
| | |
| Detail of impression (possibly uniquely titled) numbered and tiltled, l.l. | Detail of impression with typical annotation, numbered, l.l., but not titled |
Paper: Two impressions on wove paper with watermarks "RIVES" and "FRANCE" (which signify the French paper BFK Rives, Fiene's most common paper from 1928 on.