*Title: In a list of prints hand-written by the artist and dated June 14, 1958, Fiene specifies a print to which he gives the title "After the Blizzard." (See "Reproduced In" below for an explanation of why "After the Blizzard" refers to this print.) The title used in this catalogue derives from the AAA label. (See immediately below.)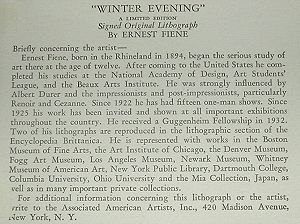 Annotation: Most Associated American Artists (AAA) prints, Fiene's included, were signed in pencil by the artist but otherwise without annotation. Winter Evening is an exception in that all observed impressions are both signed and dated in pencil, l.r.
Reproduced in and Setting: This is one of the most widely reproduced of Fiene's prints, most notably in Thomas Craven's well known volume A Treasury of American Prints, 1939,. Craven writes: "The lithograph Winter Evening was made from drawings the artist made from his window when he was snowed in for four days during the blizzard of 1934. When the storm was over, the deer came out from the woods in search of food. So it is in every way an actual scene. The locale is near Southbury, which lies in southwestern Connecticut between Danbury and Waterbury." (Craven)
Winter Evening is also illustrated in the following publications:
Prints, Oct., 1936
Magazine of Art, Jan. 1937
New York Times Magazine, Dec. 22, 1940
New York Times Book Review, December 5, 1943
Miscellany: This is Fiene's first lithograph to be published by Associated American Artists (AAA). In a letter postmarked Nov. 29, 1946, Thomas Hart Benton wrote the following to his friend and fellow artist Ernest Fiene: "We received your litho. It is a good one and a welcome addition to our collection. If you have any extra copies of the old one with the deer in it [apparently this one, Winter Evening] and would like to trade it for any of mine I'd sure like to make the exchange" (letter in Fiene family papers, unpublished). As New Snow is the only Fiene lithograph from 1946, it is probably the print Fiene had previously sent to Benton.