Notes
Impressions outside the edition: *Two unnumbered impressions, one titled and one untitled, have been observed.
Exhibition: Included in the March 26-April 15 1928 exhibition "Ernest Fiene New Lithographs" at The Downtown Gallery, New York City.
Related Works: A Fiene painting bearing the title Along the Hudson is illustrated in Glassgold, 258. The composition is similar to the lithograph, but also significantly different, especially in the depiction of the Hudson which is considerably less fog shrouded and on which boats and barges can be seen. In 1931 Glassgold shows the painting as being in the collection of Mrs. W. B. Force (Julianna R. Force, first director of the Whitney Museum of American Art). A lithograph, possibly a state of # 32, showing the boats has been reported but never confirmed by us and therefore not included in the catalogue raisonné.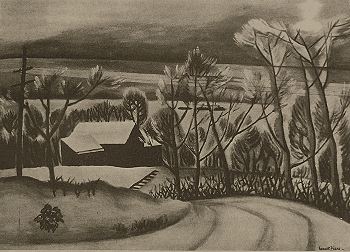 Along the Hudson, oil on canvas, c. 1928
(Black and White photo of painting originally reproduced in Creative Art, April, 1931, p. 258)
A second painting, illustrated below, is very similar to the work described above but different in several details, including the proportions and dimensions, the location of the boats on the river, and the placement of the signature. Most likely, the painting below is a study for the oil illustrated just above, though Fiene was known to make variants of works, which he signed and considered paintings in their own right.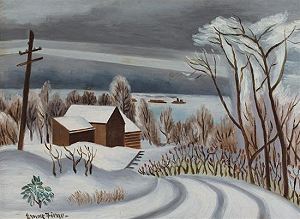 Along the Hudson, oil on canvas, signed, lower left, titled on reverse, 16 x 22 inches.
Photo courtesy of
Shannon's Fine Art Auctioneers, Milford, CT