Notes
*Title: The work itself is untitled, but the 1928 Downtown Gallery catalogue: "Ernest Fiene: New Lithographs" calls it Dish with Fruit. Presumably, the artist at least knew of this title -- if in fact he did not create or at least approve of it. Nevertheless, no title is inscribed on the print.
In a list of prints hand-written by the artist and dated June 14, 1958, Fiene specifies a print to which he gives the title "Still Life." This is most likely a reference to this print.
**Edition: From all indications there are two separately numbered editions of this lithograph: one of 18 impressions and another of 30 impressions. Although there is no precise explanation for this double edition currently available, Fiene is known to have numbered different states of a print separately, though he usually indicated this in the annotations. Such annotation has not been observed here. (See Brooklyn Bridge.)
**Impression outside the edition and inscriptions: One impression is unnumbered and inscribed "To Geo. C. Miller (lithographer) in appreciation" and another impression in the edition of 18 is inscribed "To Charles Locke [1899-1983] with compliments." (Locke was an American artist-printmaker and instructor of graphic art at the Art Students League (1925-1936), where Fiene studied printmaking and later taught.)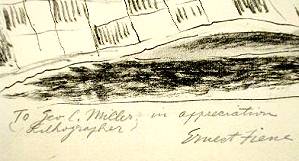 Paper: One impression from the edition is on wove paper with "FRANCE" watermark (a portion of the BFK RIVES FRANCE watermark, Fiene's most commonly used paper.