Notes:
*Alternate title and date on an impression outside the edition: One impression (at least), outside the edition of 100, bears the title "Connecticut Village," just below the image in pencil, l.l., and is dated "34" just below the image in pencil, l.r. Whether there was only one printing, produced in 1934 most of which were signed and dated later in 1935, or there was a first printing of an unknown number in 1934 and a second printing of 100 produced in 1935 is unknown. A likely speculation is that an edition of 100 plus proofs was printed in 1934 originally intended by Fiene to be titled "Connecticut Village." After annotating one or more impressions with this title, 100 impressions were consigned to Associated American Artists and sold with their COA as "Colonial Village" and dated 1935. The only observed impression bearing the title "Connecticut Village" and dated 1934 resides in the estate of the artist.
Illustrated in: "One Hundred Prints by One Hundred Artists of the Art Students League of NY, 1875-1975."
Related Works and Setting: The theme of a road leading into a village recurs often in Fiene's rural landscapes. No matter the season, the road, the church, some strategically placed trees, and a colonial house or two were often elements of the composition. Sometimes people or animals are introduced into the scene, sometimes not. The lithograph Entrance to Village, a Woodstock, NY, scene from 1927, is an earlier variation on this theme, though neither winter nor night are part of the picture. The paintings below, like the lithograph "Colonial Village," are set in Connecticut after 1933 when Fiene established a residence in Southbury.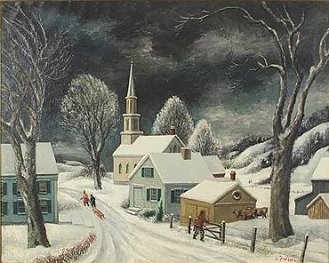 Toward Evening, Connecticut, oil on canvas, c. 1939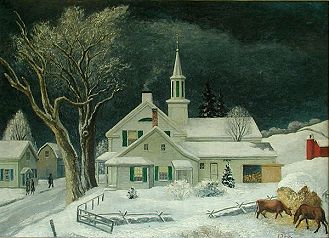 untitled, oil on canvas, c. 1935
(collection of Bernhardt Crystal)