Notes
*Title: The title "Deep Winter" derives from the Associated American Artists (AAA) label (see below). Generally, prints published by AAA were signed (l.r.) in pencil, but the title appeared only on the accompanying label. Fiene created a color lithograph in 1965 that also carries the title "Deep Winter" ("Deep Winter [2]") but is otherwise unrelated to this work.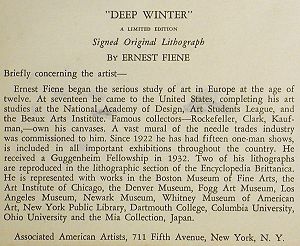 The number in square brackets following the title has been assigned, for purposes of clarification, by us not the artist. These numbers are assigned when more than one print bearing the same title exist.
Date: **This work was first offered for sale to its customers by Associated American Artists in 1942, which does not necessarily indicate the date of composition, though usually composition and publication dates are close to one another. Fiene traveled to and worked in rural Pennsylvania as early as December, 1935.
Setting: The image derives from the Pennsylvania Dutch country to which Fiene traveled on several occasions.
Related Works: An oil on canvas, being an image very similar to the lithograph Deep Winter, described as "Amish Barn, Lancaster, Pennsylvania" has been offered at auction (Doyle New York, May, 2005; see below). This may be the painting titled "Deep Winter No. 1" exhibited at Associated American Artists (AAA) in New York, Feb-Mar. 1943 in an exhibition called "Winter Works." Another related painting, The Hexsign, also deriving its setting from the Pennsylvania Dutch Country, was shown at the 52nd Annual Exhibition of American Paintings and Sculpture at the Art Institute of Chicago in May, 1942. (See below right.)
In the lithograph Deep Winter, there is no hex sign on the barn. (See above.) In the Doyle painting the view of the barn includes a hex sign on the right side of the structure. In the painting shown at the Art Institute, the hex sign is on the front of the barn.
Yet another work depicting a barn with a hex sign was reproduced by AAA as a greeting card in 1941 with the title "Pennsylvania Winter." The greeting card collection catalogue states, "Each card is a reproduction of a fine etching or lithograph." (See below left.) If there is such a print by Fiene, it would undoubtedly be a lithograph, but because no such Fiene print has ever been observed by us or even reported to us, "Pennsylvania Winter" is not yet included in the catalogue raisonné. (A gallery of prints or purported prints by Fiene can be viewed by clicking here.)
[Amish Barn, Lancaster, Pennsylvania] (c. 1942)

oil on canvas, 32 1/4 x 38 in.

(photo courtesy

Doyle New York

)

Pennsylvania Winter

as reproduced for a 1941Associated American Artists catalogue of greeting cards.

Hexsign

(oil on canvas) as reproduced in black and white for the catalogue of the "52nd Annual exhibition of American Paintings amd Sculpture" at the Art Institute of Chicago, May 1942