Notes
*Title and Edition: City Lights is the title of the 2nd edition of this print as it was published by Associated American Artists. The title "City Lights" appears only on the label that accompanies each impression of AAA edition. The first edition of this print, in an edition of 40, was published in 1932, and titled Madison Square Park.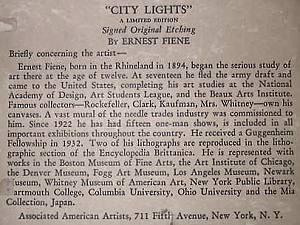 The standard AAA edition was 250 impressions. The late Sylvan Cole, former director of Associated American Artists, has suggested that the plate originally used for the first edition of 40 impressions was probably steel-faced by AAA to achieve the 2nd edition of 250 and published with the new title, "City Lights" (Interview with Mr. Cole, 2004).
**Printer: Associated American Artists had the edition printed but the specific printer is unknown.
***Signature and Annotations: Typically, only the artist's signature and occasionally the date appeared in pencil, l.r., on AAA impressions.
Reproduced in: Great American Prints 1900-1950, June and Norman Kraeft, Dover Publications, NY 1984 (Fig. 48); Whistler to Weidenaar American Prints 1870-1950, Providence: Museum of Art, Rhode Island School of Design, 1987.
Setting: To read more about Madison Square Park, New York City, click here.