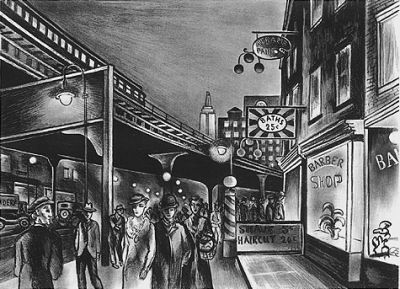 Click the image for enlargement.
Date: 1933
Medium: Lithograph
Edition: 50
Dimensions: 9 7/16 x 13 1/8 in.
Printer: George C. Miller
Typical pencil annotations on impressions from the edition: Just below the image: numbered (l.l.) signed and dated (l.r.) At least one impression has a title (l.l.).*
Public collections holding this print: HMA; NYHS
Topic galleries for this print:
1. New York City Scenes
2. Nocturnes
Notes
*Title: Although most impressions of this lithograph are untitled, at least one (22/50) bears the title "End of the Bowery," in pencil just to the right of the numbering. In a list of prints hand-written by the artist and dated June 14, 1958, Fiene specifies a print to which he gives the title "The Bowery." Other titles have been attributed to this work by dealers, auction houses, etc. including "End of the El", and "Shave and a Haircut," and possibly "Third Avenue" (See Related Works below). There is evidence that Fiene himself used yet another title. On an inventory list of prints sent by the artist to Associated American Artists (AAA) (one of his dealers) on October 2, 1936, he cites two impressions of a lithograph he calls "Pawnshop Row." The pawnshop signs (the three hanging balls being the traditional symbol of such establishments) appearing on the upper level of the building suggest this is the print to which he is referring--especially since there are no other prints in his known oeuvre that are candidates for such a title.
Setting: The lithograph's title "End of the Bowery" suggests the setting is Chatham Square where the Third Ave. El reached its southern most terminus, just below Chinatown. On the otherhand, the title, "Below Cooper Square" on the verso of the painting (Fig. 1. below), suggests the setting is closer to Cooper Square further uptown at 9th street, which would certainly have provided a better view of the newly constructed Empire State Building. The Third Avenue El curved at both locations. (See photos immediately below.)
Related Works: Several works with similar compositions and/or theme (the elevated trains and subways of Manhattan ) can be found in Fiene's oeuvre. A painting with the title "Pawnshop Row" is listed in the catalogues for Fiene's 1934 shows at the Downtown Gallery in New York in January and at the Chicago Arts Club exhibition of Fiene works in February-March, and may be the same as Below Cooper Square, (Fig. 1 below), an obvious precursor to the lithograph. Or it may be the untitled painting (Fig. 3 below), which is even closer in composition to the lithograph. In the Chicago Arts Club catalogue a lithograph with the title "Third Avenue" is listed. This is most likely a variant title for "End of the Bowery/Pawnshop Row," above.
Other paintings on this theme include "Under the El" (the Third Avenue El at 125th Street), "Nocturne" (1948), and "El Station at Night." (Fig. 2 below.)