Notes
*Title and Edition: A second edition of this print entitled City Lights was offered by Associated American Artists (AAA) in 1940. As far as is known the artist did not alter the plate for this subsequent edition, with the exception that AAA may have, as suggested by the late Sylvan Cole, steel-faced it in order to achieve the larger edition (Interview with Sylvan Cole, longtime director of AAA, 2004).
**Annotations: Typically the title appears in pencil in the margin, l.l., just below the platemark of the image. Several impressions, however, including BPL and WMAA, have the title in pencil in the lower margin at the bottom center of the sheet. (See just below.)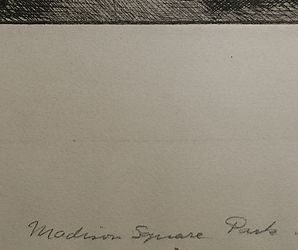 Impressions outside the edition: At least one first state proof of the first edition exists (whereabouts unknown).
Paper: The BPL impression bears a RIVES watermark.
Reproduced in: Fine Prints of the Year, 1932; Art Digest, V. 7, Dec. 15, 1932, p. 20; Salpeter, 58; Kraeft.
Setting: Madison Square Park is located at the intersection of Broadway and Fifth Avenue at 23rd Street in New York City. Fiene maintained a studio at 2 East 23rd Street just off the park for several years during the Thirties. To read more about Madison Square Park in New York City, click here.