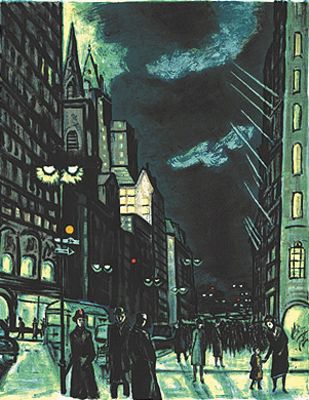 Click the image for enlargement.
Date: 1965
Medium: Lithograph printed in colors****
Edition: 50*
Dimensions: 22 7/8 x 18 in.
Printer: Atelier Desjobert, Paris***
Typical pencil annotations on impressions from the edition: Just below the image: numbered and titled (l.l.)** signed and dated (l.r.)
Public collections holding this print: CU
Topic galleries for this print:
1. Color Works
2. New York City Scenes
3. Nocturnes
4. Prints with a French Connection
Notes
**Edition: See immediately below for a typical annotation from an impression from within the edition showing numbering and title, appearing l.l, just below the image.

*Impressions outside the edition: Typically Fiene made an undetermined number of trial proofs and five signed artist proofs for the color lithographs printed in Paris in 1965. He was also inclined to make a main edition in one color scheme and a smaller, secondary edition in another color scheme (See, for example entry # 94.) There is anecdotal evidence that several impressions of Evening Fifth Avenue with color variations were printed; however, only three early proofs have been observed: one unsigned, unannotated proof with both printed and hand applied color -- probably to help the printer achieve the desired color effects; one signed and dated (1965) with the annotation "Blue" below the signature (l.r.); and one annotated "Trial Proof, Fifth Avenue, Evening" (l.l.). (See illustrations immediately below.)
Evening Fifth Avenue, Trial Proof

Evening Fifth Avenue Trial Proof Annotations

Evening Fifth Avenue, Trial Proof with alternate colors and different title (Fifth Avenue, Evening)

Photos courtesy of Francis D. Pitts
***Printer: When Fiene made prints in Paris in 1928-29, his printer was Edmond Desjobert. Although Edmond died in 1963, his workshop continued to operate under the supervision of his son, Jacques Desjobert, and Fiene made eight editions there before he died in Paris on August 10, 1965. The editions Fiene created were subsequently shipped back to family and estate representatives in New York.
****Color: More than likely all of the prints Fiene made in Paris in 1965, were four color lithographs. On July 18, of that year, the artist wrote to his brother-in-law Harry Fleischman in New York as follows:
The printing bills are very high and the work much more difficult than I had foreseen. I am doing four color prints [i.e. lithographs incorporating four different colors], that means I draw four stones for each subject. It is done in touche [tusche], like watercolor, much hit or miss and when the etching [He is referring to the etching of the lithographic stone, not to the prints themselves being etchings] is done you never know what comes out. So far I have done two editions, not too bad, and I have three going -- (unpublished letter from the Fiene family files).
Paper: The edition and signed proofs are printed on wove paper with the BFK RIVES watermark, as are observed unsigned proofs.
Related Works: Fifth Avenue in the evening was a recurring setting for Fiene. (See below.)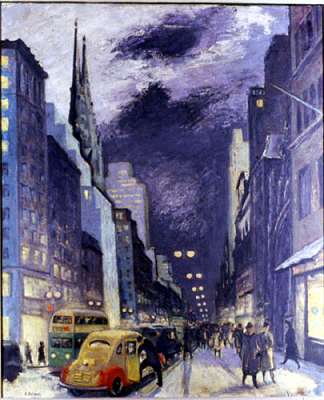 "Nightfall Fifth Avenue" (1940's), oil on canvas, 29 5/8 x 24 1/2 in. (Collection of the Williams College Museum of Art)

One Fiene painting of Fifth Avenue "December Evening Fifth Avenue" (26 x 32 in.; 1946; whereabouts unknown) was purchased by Frank Sinatra for his home in Hollywood. (Ernest Fiene, personal files, unpublished)

(Photo courtesy of the Williams College Museum of Art)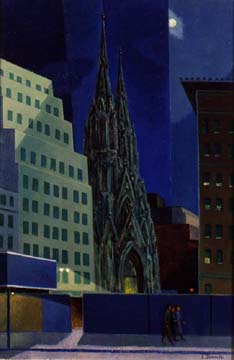 "Night View St. Patrick's Cathedral", oil on canvas, 35 7/8 x 24 1/8 in., signed, l.r. "Ernest Fiene, 56," Museum of the City of New York.

(Photo courtesy of the Museum of the City New York)