*Title: The number in square brackets following the title has been assigned, for purposes of clarification, by us not the artist. These numbers are assigned when more than one print bearing the same title exist.
Publication: This print was the presentation print of the The Print Club of Rochester for 1943. In the club minutes for Oct. 21, 1943, it is noted that "Mr. Ernest Fiene was contacted and he has made and delivered a lithograph called "Winter Sunshine" [sic] for $200, plus printing expenses $55, plus traveling expenses for his lecture on Nov.10th . . . . Mr. Menihan mentioned that the Presentation Print was most highly satisfactory, in his opinion, and that the subject matter was one chosen by the artist, Mr. Fiene, himself. George Miller made the prints . . . . A motion was made and seconded that members in the Armed Forces were to receive a Presentation Print, whether dues have been paid or not. Meeting adjourned." In a letter of November 18 to the artist, a club officer notes that "the stone has been cancelled and that the Print Club of Rochester, therefore, has the complete edition." (un published letters from the archive of the The Print Club of Rochester.)
*Related Works: In 1965 Fiene created two color lithographs Winter Sun [2] and Winter Sun [3]. The subjects are clearly variants of "Winter Sun [1]". And all three lithographs are almost the same image as the painting "Winter Evening," collection of Abbott Laboratories (See below.), which Fiene described as a "luminous night scene" (Fiene, Complete Guide 95).
Also, a painting titled Winter Sunset, oil on board, c. 1940, 14 x 22 in. has a similar composition, but does not include the sun itself or the church (not illustrated).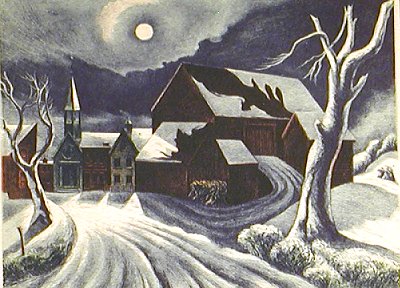 (Photo courtesy of the estate of Ernest Fiene)
Setting: According to Fiene, the setting is "a typical Pennsylvania Dutch village," (Fiene, Complete Guide 95), a description that would therefore apply to the Winter Sun series of lithographs.