At least one signed and dated but unnumbered impression exists.
Annotations: **Several prints made in 1930-31 including Bather, Asleep. some impressions of Madison Square Park, and this one have the title in the artist's hand in pencil at the bottom of the sheet edge instead of the more common location, l.l. just below the image.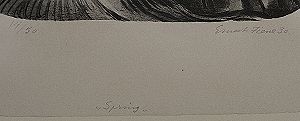 Photo courtesy of the
Boston Public Library Prints Department
Reproduced in: Adams, "The Woodstock Ambience" 13.
Rounded Corners: Fiene lithographs with rounded corners include this work, Winter, Brooklyn Bridge, and White Rose in a Vase.