No sizeable project such as this can be accomplished without the help of many. This is especially true for a catalogue raisonné project for which the cooperation of the artist's family and friends as well as a wide range of professionals in the art world becomes a necessity. Those listed below all showed a willingness to share recollections, artworks, and general information about Ernest Fiene. Foremost among them is the artist's daughter Maria Fiene, without whose consistent and good natured support this catalogue would not exist.


Other members of the artist's family as well as friends who were crucial to whatever success the project achieves include Phil Kamphuis who, has managed to keep in touch and provide invaluable help from a distant and difficult part of the world; the late Paul René Fiene, the artist's son; Denny Levy, who took the initiative to provide a wealth of important research materials and who was (and remains) supportive in a multiplicity of crucial ways; the late Harry Fleischman, whom it was a pleasure and a privilege to know; Constance Kordell Fiene who, since the death of her husband, Paul René Fiene, has been consistently supportive of this project; Peter and Louise Fleischman; Martha Mordin; Elaine Engelhart; Kay Michaels; Harriet Fisher; and Ella Borden.


Auctioneers, Collectors, Dealers, Scholars and other inhabitants of the print world whose collegial contributions to this project are much appreciated include:

Mary and Norman Abrams; Henry Adams; Jeffrey Bergen; Christine Berlane; Harry Cohen; the late Sylvan Cole, who gave of his time and invaluable expertise generously; Bernhardt Crystal, Ernest Fiene's last dealer and close friend whose nonagenarian energy and spirit remains boundless; Charles Garbowsky; Gillian Greenhill Hannum; D. Roger Howlett and Meghan Read of Raisonne.org, fellow pioneers on the online multi-catalogue raisonné frontier; Julian Hyman; Linda Hyman; Hal Marrett; Burr Miller; Arlene Mitchell; Robert Newman; Francis V. O'Connor; Ken Pollock; Joel Rosencranz; Ernie Shapiro; Keith Sheridan; Donald E. Smith; Ellen Sragow; Egon Teichert; R.L. van Almen; Michael Vincent; Gail Windisch; Gert Wirth; Alan Wofsy and Stuart Wright.



Representatives of museum, library and other collections who kindly responded to my inquiries, and especially to those, noted in bold, who were good enough to allow me to visit and examine works of art are (in alphabetical order by institution):


Addison Gallery of American Art, Phillips Andover Academy, James M. Sousa; Amon Carter Museum, Jane Myers; Art Institute of Chicago; Barbara Hinde; Art Students League, Pam Koob; Baltimore Museum of Art: Ann Shafer, Assistant Curator, Jennie Fleming, Curatorial Assisatnt, Department of Prints, Drawings and Photographs, and Tom Primeau, Conservator; Boca Raton Museum of Art, Martin Hanahan; Boston Public Library, Karen Shafts; Brooklyn Museum of Art, Phyllis Kwalwasser; Butler Institute of American Art, Becky Davis; Carnegie Museum of Art, Dr. Louise Lippincott; Cleveland Museum of Art, Joan Brickley ; Colby College Museum of Art, Sharon Corwin; Corcoran Gallery of Art, Marianne Henein; Cornell University, Herbert F. Johnson Museum of Art, Nancy E. Green and Andy Weislogel; University of Delaware, University Museums, Janet Gardner Broske; Denver Art Museum, Bridgett O'Toole; Detroit Institute of Arts, Nancy Barr; Fogg Art Museum, Marjorie Cohn; Georgetown University Library, LuLen Walker and Father Joseph Haller; Georgia Museum of Art, Romita Ray and Tricia Lichter; Grunwald Center for the Graphic Arts, Claudine Dixon; Hamilton College Gallery, Susanna White; High Museum of Art, Paula Williams; Indiana University Art Museum, Nan Brewer; Los Angeles County Museum of Art, Cynthia Phillips; Lyman Allen Art Museum, Linda Lavin; Mattatuck Muesum, Raechel Guest; Memorial Art Gallery, University of Rochester, Monica Simpson; Metropolitan Museum of Art, Constance McPhee; University of Michigan Museum of Art, Carole McNamara; Museum of Fine Arts, Boston, Patrick Murphy; The Museum of Modern Art, Raimond Livasgani; Museum of the City of New York, Eileen Morales; Montclair Museum of Art, Patterson Sims and Gail Stavitsky; National Academy Museum, Paula Pineda; University of New Mexico Art Museum, Michele M. Penhall; New York Historical Society, Department of Prints, Photographs and Architectural Collections; New York Public Library Print Collections, Roberta Waddell and Margaret Glover; Newark Public Library, William J. Dane; Ogunquit Museum of Art, Dr. Michael Culver; Parrish Art Museum, Novella Laspia; Pensacola Museum of Art, Heather K. Roddenberry; Philadelphia Museum of Art, Christa M. Carroll; Philbrook Museum of Art, Abby Wilcox; Philips Collection, Randy Hunt; Portland (ME) Museum of Art, Lauren Silverson and Jessica Skwire Routhier, Associate Curator; Dave and Reba Williams' Print Research Foundation (Stamford CT): Elizabeth Peterson, director, Diana Matson, Librarian and Emily Hall, Print Research Assistant; Rhode Island School of Design Museum, Clare Rogan; Santa Barbara Museum of Art, Kim Beil; Smith College Museum of Art, Alona Horn; Smithsonian Archives of American Art, Judy Throm; St. Petersburg FL Museum of Fine Arts, Louise Reeves; Syracuse University Art Collection,Laura J. Wellner; Vassar College, Frances Lehman Loeb Art Center, Patricia Phagan and Kelly A. Thompson; University of Vermont, Robert Hull Fleming Museum, Margaret Tamulonis; Vero Beach Museum of Art, James D. Belknap; Whitney Museum of American Art, Connie McPhee, Barbi Spieler and Darlene Oden; Williams College Museum of Art, Nancy Mowll Mathews; Woodstock Artists Association, Linda Freany; Yale University Art Gallery, Russell C. Lord; Zimmerli Art Museum, Julie Melby.


Many thanks to all of you, and my apologies to anyone who has been inadvertently omitted.

Jeffrey Coven

Selected Prints
from
the Catalogue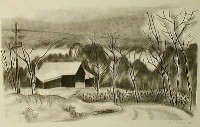 Along the Hudson
Lithograph
1928
---
---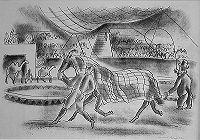 [Circus Horse] (untitled)
Lithograph
c. 1928
---
---
---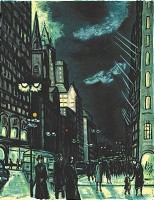 Evening Fifth Avenue
Lithograph
1965