Most aficionados of early twentieth century American prints have encountered a few prints made by Luis Quintanilla, especially those published by Associated American Artists. I counted myself among them until, while searching the internet for information about another American artist-printmaker of the period, I stumbled on the website The Art and World of Luis Quintanilla, written and constructed by the artist's son Paul Quintanilla. It was only then that I became aware of the extent and quality of Quintanilla's oeuvre as a printmaker, not to mention his wonderful work in other media, as well as his extraordinary life. It is to Paul Quintanilla that his project owes its greatest debt, not only for his website and its fascinating trove of information about his father, but for his willingness to provide me with everything I asked for and much more as well. Furthermore, his biography of his father, Waiting at the Shore, has not only filled in many blanks about Quintanilla's art, but also made the man who stands behind the art an integral and fascinating figure within the fabric of his times. Truly, without Paul Quintanilla's consistently thoughtful contributions this project would not have been possible.
The general support of Esther Lopez Sobrado, who teaches art at the Ensenñanza Secundaria "Merindades de Castilla" de Villarcayo near Quintanilla's birthplace in Santander, and whose body of work on Quintanilla is the most important and extensive in existence, has been and will continue to be invaluable.
A partial listing (which will be extended) of other individuals -- collectors, dealers, curators, scholars, etc. -- whose assistance with this project, has been greatly appreciated is as follows:
Ella Bailley, Department of Foreign Languages, Suffolk County Community College (SUNY), Brentwood, NY -- for her skills as a translator, her knowledge of Spanish culture, and her consistent and good-natured support of this project
Christine Berlane and Nigel Freeman, Swann Galleries, New York
Melanie Bower, Manager of Collections Access, Museum of the City of New York
Jenny Gotwals, Visual Materials Archivist , Department of Prints, Photographs, and Architectural Collections, The New-York Historical Society
D. Roger Howlett and Meghan Read of Raisonne.org, and The Childs Gallery, Boston
Raimond Livisgani, Curatorial Assistant, Department of Prints and Illustrated Books, The Museum of Modern Art, New York
Darlene Oden, Senior Assistant, Registration Department, Whitney Museum of American Art, New York
Robert Parks, Director of Library and Museum Services and Curator of Literary and Historical Manuscripts, The Pierpont Morgan Library, New York
Joby Patterson, University of Oregon School of Architecture and Allied Arts, Department of Art History, Eugene, OR.
Elizabeth Peterson, Director, Diana Matson, Librarian and Emily Hall, Print Research Assistant, Print Research Foundation, Stamford, CT
Tom Primeau, Conservator, Baltimore Museum of Art
Samantha Rippner, Assistant Curator, Department of Drawings and Prints, The Metropolitan Museum of Art, New York
Ann Shafer, Assistant Curator, Department of Prints, Drawings and Photographs, Baltimore Museum of Art
Karen Shafts, Department of Prints, Boston Public Library
Alia Souels-Parker and Joan Souels for their help with research
Egon Teichert, respected print dealer and a general source of reliable knowledge on all matters concerning prints
Gail Windisch, author of the forthcoming catalogue raisonné of prints published by Associated American Artists
Alan Wofsy, Alan Wofsy Fine Arts
Finally a great deal of credit and thanks must go to my wife Leslie Coven who, as always, has acted as my wise advisor, translator, and all around system of support.
Selections from the Catalogue
(Click the image or title to go to the full entry.)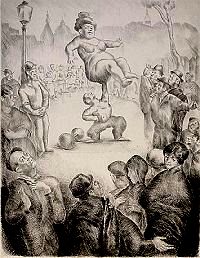 El forzudo
(The Strong Man)
Drypoint
1931-34

Cafeteria near New York University
Lithograph
c. 1940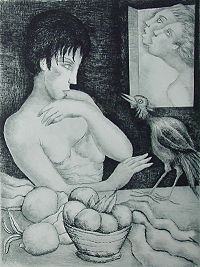 Rare Bird
Intaglio
(Date Currently Unknown)