The Prints of Luis Quintanilla :
A Catalogue Raisonné
(in progress)

Propose an Addition or Correction to the Catalogue
One advantage of a catalogue raisonné published on the internet is the capacity to elicit information from a wide range of collectors, dealers, museum curators, and other interested parties with knowledge of Luis Quintanilla's prints that may help to update or correct the catalogue. As you probably know, the goal of a catalogue raisonné of an artist's prints is to publish a complete and authoritative listing of every print the artist has produced. Therefore, if you have any of the following, please contact us:
A print or prints (etchings, lithographs, etc.) by Luis Quintanilla (Spanish/American, 1893-1978) -- whether already listed in the catalogue or not
Knowledge of any of his prints, such as their whereabouts or facts concerning them
Works in other media by Quintanilla (e.g. oils, watercolors, drawings, etc.)
Information about the artist's life and work in general
Reason to believe information published in this catalogue is in some manner incorrect or otherwise in need of alteration.
Contact Information:
Thank you very much in advance for any information or feedback you may provide.
Selections from the Catalogue
(Click the image or title to go to the full entry.)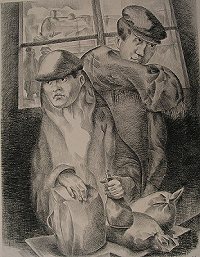 Emigrantes
(Immigrants)
Drypoint
1931-34