---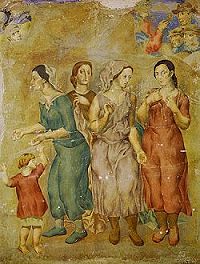 Women, Fresco, 1934, 220 x 180 cm,
Reina Sophia Museum, Madrid
(photograph before restoration).
---

pencil sketch on paper (1939) of Eliot Paul by
his close friend Luis Quintanilla
---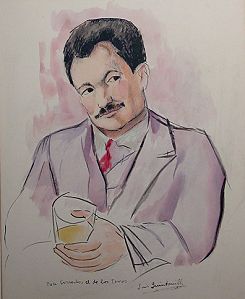 Luis Quintanilla
Ernest Hemingway in Madrid in 1931 Watercolor, 15 1/2 x 20 1/2," painted from memory in New York, 1950s
---
Examples of the works included in the group of Quintanilla prints brought to the
United States by Ernest Hemingway
for exhibition at the
Pierre Matisse Gallery, New York,1934,
to raise money for the imprisoned artist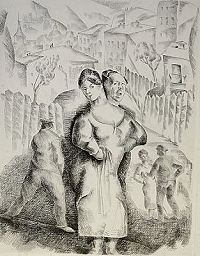 Calle de Madrid evocanda a Goya
(Madrid Street Scene Evoking Goya)
Drypoint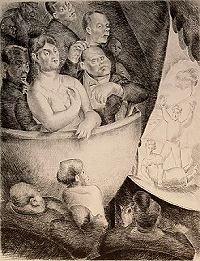 Teatro Burgues
(Bourgeois Theater)
Drypoint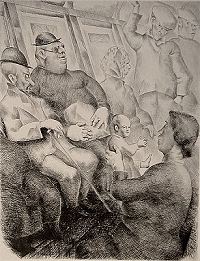 Interior de un tranvia en Madrid
(Interior of a Streetcar in Madrid)
Drypoint
---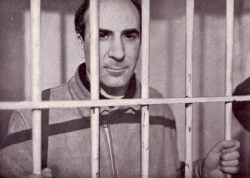 Luis Quintanilla in prison in Madrid, 1934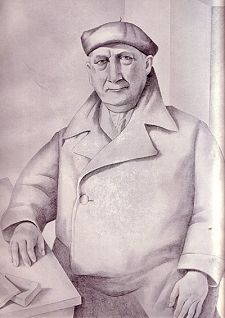 Francisco Largo Caballero
(Minister of Labor and later Prime Minister)
drawn by Quintanilla while in jail, 1934,
pencil on paper 26 x 37cm (sheet)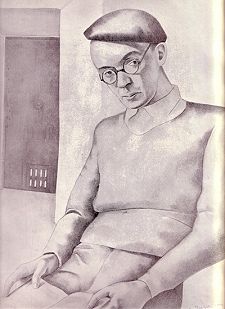 Julian Zugazagoitia
(Minister of the Interior during the war)
drawn by Quintanilla while in jail, 1934,
pencil on paper 26 x 37cm (sheet)
---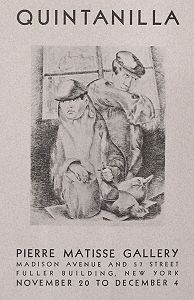 Catalogue Cover from the exhibition at
the Pierre Matisse Gallery to raise money for
the imprisoned artist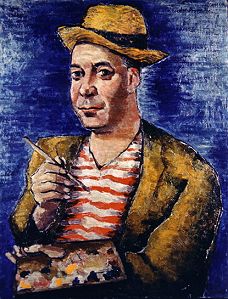 Luis Quintanilla
John Dos Passos as a Sunday Painter
oil on canvas; Oil on Canvas, c. 1943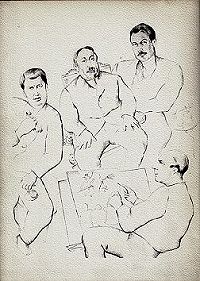 Pencil sketch of the artist drawing
his friends (left to right), Jay Allen, Eliot Paul ,
and Ernest Hemingway.
(This illustration was reproduced from All the Brave, the collection of drawings of the Spanish Civil War, which the four men portrayed participated in creating).
---
Notes
(The following are not included in the original text of Waiting at the Shore.except where noted)
1. Juan Negrin was born in Las Palmas de Gran Canaria, became a university professor of physiology and physician, was named Minister of Finance for the Second Republic in September, 1936, in the government of Fancisco Largo Cabalerro, and in May, 1937, became President of the Second Republic. (Wikipedia).
2. Angel Sanchez Rivero (Madrid, 1888-1930), philosopher, art critic, director of the Department of Fine Arts at the Biblioteca Nacional de España, friend, and mentor of Luis Quintanilla in Madrid during the 1920's and 1930's.

It was "under Sanchez Rivero's tutelage [that Quintanilla] studied the library's great collection of prints . . . including many Rembrandts, Goyas and Durers, actually holding the precious [works] in his hands. And when he became especially enthusiastic over one of [them], Sanchez Rivero would interrupt his [own] studies to join [Quintanilla]. 'Listening to him speak' [Quintanilla tells us in his memoirs] 'increased in me that starnge pleasure which artistic emotions create in us, feeling the mysterious, transcendent miracle that lines, rhythms, and the contrast of simple blacks and whites can transport us to an ideal world: that fantastic, mystical and human engraving of Rembrandt's entitled The Hundred Florins, the audacities and ironies of Goya in his Caprichos and Proverbs, and the concentrated philosophical unrest of Durer.' [ from Quintanilla, Luis. Pasatiempo]" (Quintanilla, Paul. Waiting, I 61.)

Furthermore, it was under the encouragement of Sanchez Rivero that Quintanilla began to "grabar a la punta seca" (make drypoints) with Adolfo Ruperez. (Quintanilla, Paul. Waiting, I 84.)
3. Elliot Paul (1891-1958) was a prolific American author and close friend of Quintanilla both in Spain and later in New York. His works, several of which were illustrated by Quintanilla, include fiction, journalism, mysteries, memoirs, sreenplays, film criticism, and a history of jazz.
4. Lester Ziffren and Jay Allen -- American friends of Quintanilla, and Hemingway, Ziffren was the United Press Correspondent in Spain, 19933-36; Allen the correspondent for the Chicago Tribune, which fired him for his pro-Republic stance.
5. Waiting at the Shore by Paul Quintanilla is avialable in it's entirety from Lulu Press.
Here's something very different from the export-Spain of the art galleries and cruise folders. No high combs or modish mantillas or singers of La Violetera dressed up for Holy Week. Here are the back lots, the cheap whores, the beggars and bootblacks, and the new business men greedy for power. This stuff of Quintanilla is different, too, from the work of the brilliant Spaniards of the school of Paris. This is a Spaniard who stayed at home, instead of moving out to peddle the magnificent Iberian tradition of design in the safe world of international Ritz. For a man who can see and feel it's always more dangerous at home.

Staying at home it was natural that he should be a satirist; most of the best Spaniards have been satirists. There's a type of clear noontime logic in the Spanish blood that can only come out as satire. The sharp metal cleanness of etching is particularly attractive to the eye and hand of a satirist. A satirist is a man who can't see filth, oppression, the complacency of the powerful, the degradation of the weak without crying out in disgust. A great satirist can turn disgust into violent explosive beauty. Quintanilla has expressed his disgust in etchings and as an active revolutionist. It is natural that the civil and religious bureaucrats, the landlords and industrial exploiters who have used the army, the politicians-on-the-make and particularly those faithful watchdogs of property, the Civil Guards, to get back power in Spain for property, should have put him in jail. Looking at his etchings it is hard to avoid drawing a parallel with Georg Grosz's early work in Germany. The political moment too is similar, a time of defeat of everything that gives men hope.

For inventors of images and designs for the eye or the ear or that amalgam of feelings and sensations that writing appeals to defeat is sometimes better than victory. A good thing, too, because there's a great deal more of it. There's been many a good work started in jail. We can only hope that that honorable ex-republican, ex-radical, ex-firebrand, Mr. Lerroux, is letting Quintanilla have pencils and paper.

You can't add much to work that's meant for the eye by talking about it. There are the etchings themselves on the walls to look at. Good etchings are so rare that there's no mistaking them. You feel in them the sharpness of the tools and the acid, the clean elegance of the metal. In Quintanilla's there's a nightmarish fantasy about the contours that calls up the black Spain of Goya, and a new palpable balanced density that, unless I'm very much mistaken, is something quite fresh in etching. Perhaps it comes from having healthily digested the pure visual experiments of Cezanne and the Cubists. The hardest thing to take, and the best quality in them, is their terrible sanity and clear balance. The few people who care for painting or drawing in our time have come to look for and enjoy childish fancy in an artist, entertaining twilight insanities in work that will look charming in a room decorated with modern furniture at the cocktail hour. The clear expression of a clean eye and an uncluttered grown-up mind is something much more dangerous and explosive. These etchings offer no amusing escapes to the tired artlovers. They are the statement of a grown-up man facing a bitter world in the sun at noon. [See note 5.]